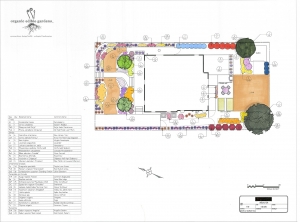 Ecologically Friendly House and Landscape
Copyright Organic Edible Gardens LLC 2015
Organic Edible Gardens LLC just designed the landscape of this recently constructed energy efficient home. The house was designed and built by Enviro Home Design complete with large planters to catch most of the rainwater coming off of the roof.
For the landscape we designed a two tiered retaining wall planted with native Sedum and grasses to correct the steep slope on the north east corner of the property. The sunny front yard allowed for an Asian Persimmon tree paired with native red twig dogwood, a  Purple Leafed Plum paired with a gold leafed variety of Ninebark. In front are Half-High Blueberries and New Jersey Tea to the sides. Liatris spicata, white Echinacea, Baptisia australis and Comfrey are a few of the perennials.
In the shady back yard we chose Redbud and Serviceberry (Amelanchier laevis) as the understory trees paired with Arrowwood Viburnum and Catawba Rhododendron shrubs. Beneath the shade of the understory trees we chose a dark and mysterious Snakeroot cultivar with purple foliage paired by a light and airy yellow leafed spreading St. John's wort.
For the part shade and part sun side yards we chose Honeyberries (Lonicera caerulea), Crandal American Black Currants, and Virginia Sweetspire.